Probio-Tek is a 100% antibiotic-free organic product specially designed for rumen health.
Economic losses through diarrhea & its prevention through ProBio-Tek's proper usage – Scouring is the commonest disease in young calves and it is, without doubt, the greatest single cause of death. In India, calf mortality ranges from 12.5 to 30%. Calf mortality acts as one of the major obstacles and 20% of calf mortality reduces net profit to approximately 40%. Incidences of calf mortality vary from 2 to 20% in exotic dairy breeds under temperate climates. However, in India calf mortality ranges from 12.5 to 30%, even it may be as high as 81%. Even though mortality is high, perhaps the worst part of calf scours is the cost and frustration of treatment. One survey estimated that almost one-third of all calves are affected by scour. ProBio-Tek is essentially designed to reduce the infectious causes of diarrhea through the mechanism of competitive inhibition of the growth of pathogens. In this way, ProBio-Tek reduces diarrhea incidences, helps in early rumen development, rumen health maintenance, and increases growth.
Probio-Tek works against 6 major pathogens responsible for diarrhea
Rotavirus – by increasing intestinal mucosal immunity
Salmonella – by directly binding through lectin receptors of bacteria which prevents colonization
E.coli – by directly binding through lectin receptos of bacteria which prevents colonization
Cryptosporidia – through compitetive exclusion
Coccidiosis – through competitve exclusion
Clostridia – through prebiotic effect of oligosacharide compounds
Apart from this Probio-Tek also works as an organic toxin binder & liver health rejuvenator.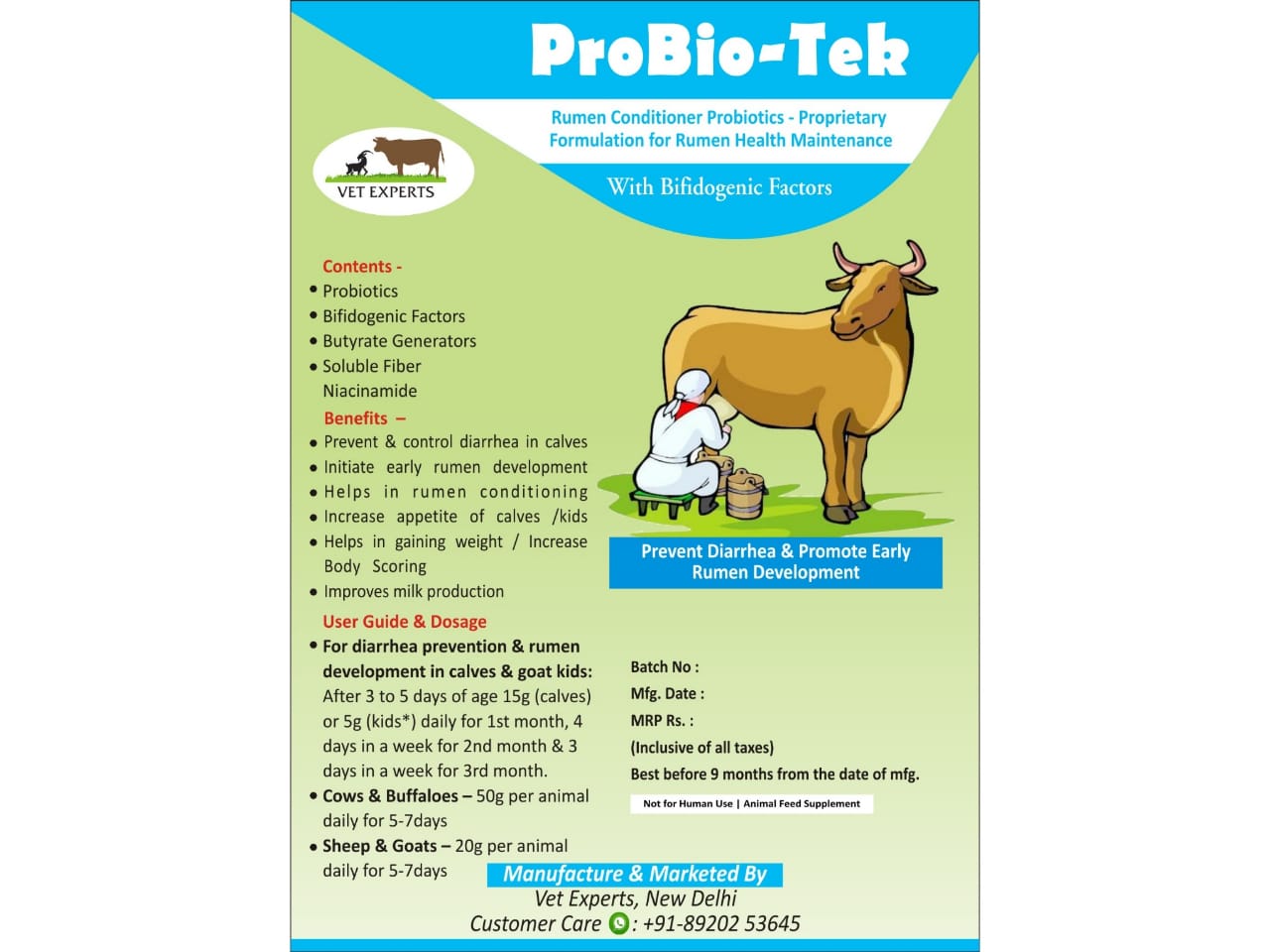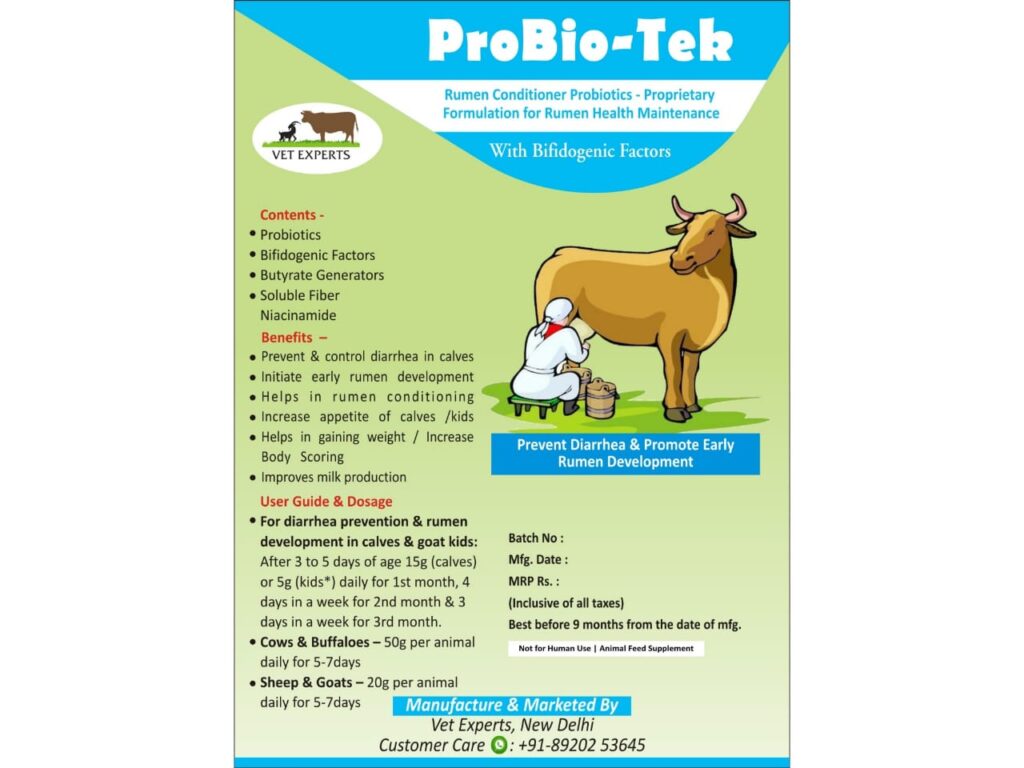 Product Identity – Probiotics, Bifidogenic factors, Butyrate generators, Soluble fiber & Niacinamide
Product Presentation – 250g, 500g, 1Kg, and 5Kg packing in dry powder form in a triple laminated zipped paper pouch. Customized larger packing could be made on order.
Price –
250g ProBio-Tek – Rs.330/-
500g ProBio-Tek – Rs.700/-
1Kg ProBio-Tek – Rs.1200/-
5Kg ProBio-Tek – Rs.5500/-
Availability – Online through WhatsApp/Website-based order. Product will send through the courier by a suitable service provider for door-step delivery. No mediator or dealer is present in between. Minimum 5 days margin should be considered after placing an order.
Payment mode – Advance account transfer or UPI
In which animals it can be used – Cows, Buffaloes, Sheep, and Goat & their young ones
Dose –
For diarrhea prevention & rumen development in calves & goat kids: After 3 days of age 10g (calves) or 5g (kids) daily for 1st month, 4 days in a week for 2nd month & 3 days in a week for 3rd month. It can be mixed with milk replacer or calf starter feed or can be given directly in the mouth.
Cows & Buffaloes – In case of digestive disturbance, recurring bloat, poor quality feed, mycotoxin susceptibility or to increase appetite 20 to 25g per animal daily for 5-7days
Sheep & Goats – 10g per animal daily for 5-7days
For more clarification WhatsApp at +91-89202 53645
Please feel free to talk and get satisfied