How to make mineral mixture for cows, buffaloes, goats and other livestock at home
Minerals are essential part of livestock and poultry nutrition. Although they are required in small amount but their requirement is not less important than other nutrients.
Most of the farmers buy these minerals in the form of premixed blends known as mineral mixture. Most of these products also contains additional vitamins, which may or may not be present as per requirement of animals.
This mineral mixture is added at various levels in each feed, or a separate one is used for each different feed.
In India mineral mixture market very large and hundreds of brands are available. On the basis of requirements minerals are divided into 2 parts. One is macro mineral and other are micro or trace minerals.
In macro minerals Calcium and Phosphorus are most important and in trace minerals 6 minerals are usually considered important from supplementation point of view.
In general, it is advisable to buy vitamin and mineral premixes separately, it is because certain minerals tend to destroy certain vitamins when in close contact. Thus, if the trace mineral premix is bought as a separate entity, it merits considering mixing it a home, because with enough volume savings can be significant.
This is particularly beneficial for organized dairy farmers who have spent too much money on purchasing mineral mixture.
A homemade trace mineral premix makes more sense when large quantities of feed are farm-mixed, or if labor is inexpensive. These both factors are true in Indian conditions.
Self-made mineral mixture can save 70% of cost spend on these items.
Equipment for this job can be as sophisticated as a computerized micro-batch mixer or a simple hand-weight system.
The following guidelines must be followed for homemade mineral mixture:
First and foremost thing is the reliable supply of trace mineral salts. Animal and poultry bird's needs minerals as pure elements but minerals are available in nature in the form of salts. Here I suggest you can buy these elements (salts) on amazon or from IndiaMart. Lab grade salts can also be used.
One important point is that cost of mineral mixture making depend upon the availability pure element and that availability should be the final criteria for choosing the salt. For example, we would see the cost of pure iron in iron Sulphate. Bioavailability is another issue which will see later.
Afterwards, Lowest and highest inclusion rates in the diets of animals must be known for all elements (iron, zinc, manganese, selenium, iodine). It means we must know the requirement of animals according to that we include it in mineral mixture. For example layer bird require Cu per day and eat 100g of feed per day so we have to put 2.28mg copper in 100g feed. In this way layer bird requirement gets fulfilled. Due to this reason mineral inclusion is always given for per Kg diet basis. 22.8mg copper is recommended to include in 1Kg of layer diet.
Another example, a 300Kg heifer intake is 6Kg DM. Its NRC based daily requirement of copper is 60mg, so 10mg copper inclusion per kg diet (on DM basis) is recommended. For 650Kg cow Cu requirement is 200mg and intake is 20Kg DM. inclusion of 10mg copper is required per Kg diet.
Either we put in concentrate or given as top dressing. In case of poultry birds it always recommended to give in diet because top dressing may cause toxicity but in cows top dressing in the form of mineral mixture is usually practiced.
So don't worry for the requirement of animals, just see what is recommended to include in diet. By doing this mineral mixture making is become easy.
Single inclusion rate will be used for all diets then an intermediate value should be set.
The low inclusion rate can be used to formulate a premix suitable for finishing animals, whereas the high inclusion rate will be more suitable for young or high-producing animals.
The amount of the different salts per kilogram of premix can be found by dividing the required additions per kg of diet with the inclusion rate and multiplying the result by 1,000 times and dividing by the element's concentration in the salt.
For example, let us suppose that zinc oxide (80.3 percent zinc) is the salt of choice to provide zinc at 70 mg per kg of diet and the inclusion rate for the premix is set at 2 kg per metric ton (MT).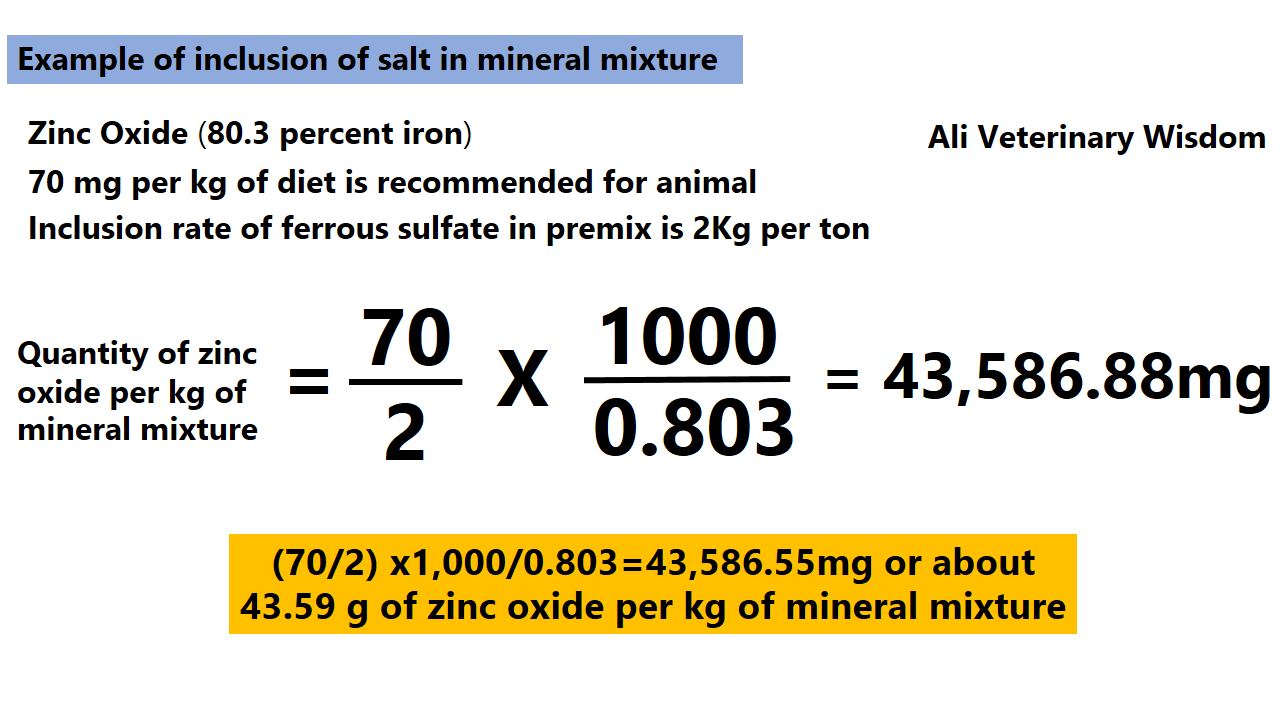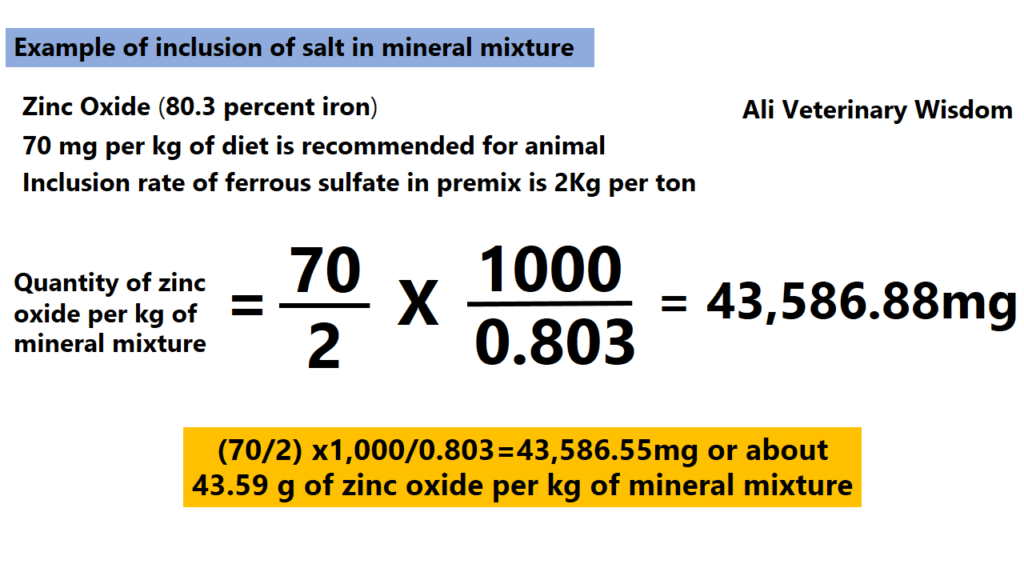 Thus, the quantity of zinc oxide per kg of mineral mixture can be calculated as (70/2) x1,000/0.803=43,586.55mg or about 43.59 g of zinc oxide per kg of mineral mixture or 4359g (4.359Kg zinc oxide per 100Kg of mineral mixture). In this way all salts will be included in this mixture and it became 100Kg, from this 100kg, 2kg is included in 1 ton of feed.
But in India, mineral mixture is also used as top dressing over feed.  If you are using it in top dressing then use this calculation. 400Kg cow or buffalo eat 5Kg concentrate in a day.
2Kg mineral mixture need to mix in 1 ton of feed.
2Kg (2000g) à 1000Kg feed
2g mineral mixture à present in 1Kg feed; 10g in 5Kg feed.
Daily dose for top dressing à 10g (according to weight and production of animal it may vary from 8 to 13g)
Small excesses are not harmful but deficiencies must be compensated by increasing inclusion rates for these diets during premix design.
Finally, a suitable carrier (corn gluten, wheat dalia, wheat bran or even just DORB) should be used to make up the difference of the salts up to 1 kg.
At least 100 kg of premix should be prepared at one time in a small mixer (not the one used to mix normal feed) to ensure all ingredients are mixed thoroughly. Mixing is very important point, poor mixing may cause toxicity in animals.
In India about 40% of the mineral mixture is just calcium and phosphorus. Calcium comes from LSP which is Rs3 per Kg and Phosphorus comes from DCP which is Rs40 per Kg.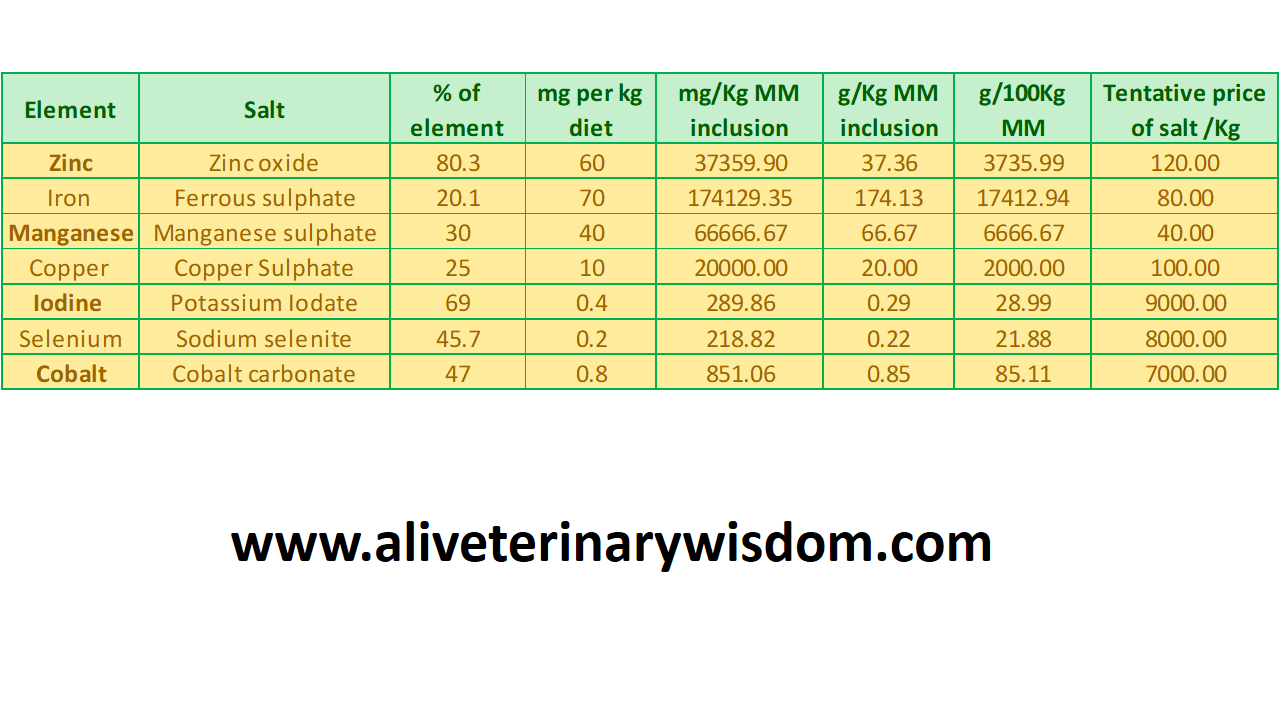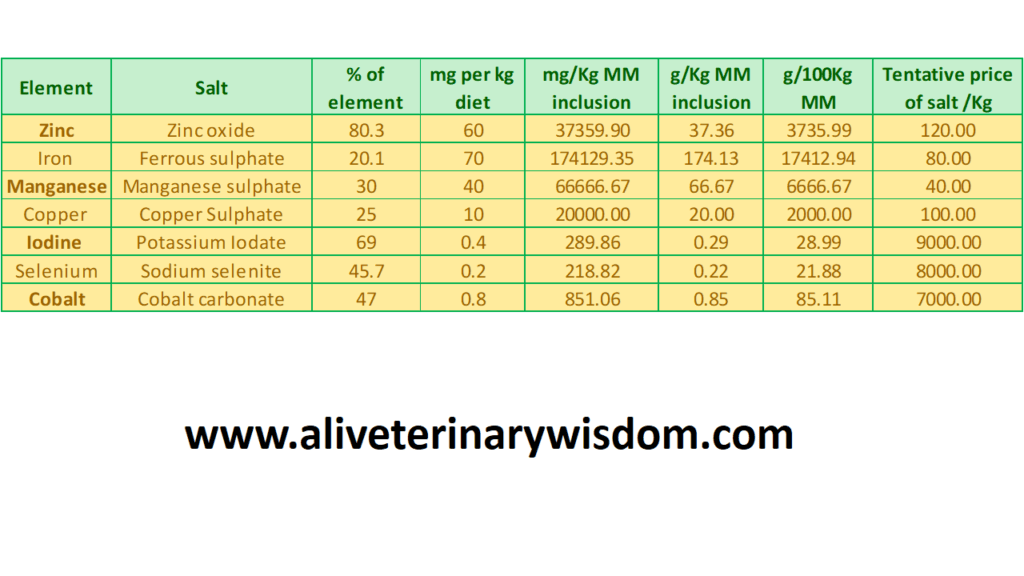 Mineral Mixture composition for 100Kg
Zinc Oxide – 3.73Kg (Rs448.32)
Ferrous Sulphate – 17.41Kg (Rs1339)
Manganese Sulphate – 6.6Kg (Rs266.67)
Copper Sulphate – 2Kg (Rs200)
Potassium Iodate – 0.0289Kg (28.9g) [Rs260]
Sodium selenite – 0.0328Kg (32.8g) [Rs175]
Cobalt carbonate – 0.106Kg (106g) [Rs595]
DORB to make it 100Kg – 70Kg (Rs700)
All prices are taken from Indiamart and Amazon and prices are lump sum same.
Mineral Mixture cost comes around Rs.40 Per kg
And its dose is 5 to 10g per animal based on weight and production
Self-made mineral mixture 1 dose comes around 20 to 40p
While normal mineral mixture comes around Rs150 to 180 per Kg and their dose is 50g. Cost of single dose of market mineral mixture comes around Rs9
Let us analyze market brands (technical analysis) typical mineral mixture have following composition   
Nutritional Value per kg
Vitamin A 5 to 7lac IU (Rs10)
Vitamin D3 40,000 to 70,000 IU (Rs1)
Vitamin E 100 to 250 mg (does not matter, requirements not defined)
Nicotinamide 1000 mg (usually not required, neither it is significant)
Cobalt 100 to 150 mg
Copper 1200 to 1500 mg
Iodine 325 mg
Iron 1500 mg
Magnesium 6000 mg
Manganese 1500 mg
Potassium 100 mg (not significant)
Sodium 5.9 mg (not significant)
Sulphur 0.72% (not significant)
Zinc 9600 mg
DL-Methionine 1000mg (not significant / not required)
Calcium 25.50% (adult animal maintenance requirement is 20g and if it is giving milk it requires additional 30g per 10liter. At 50g dose only 12.5g calcium is available)
Phosphorus 12.75%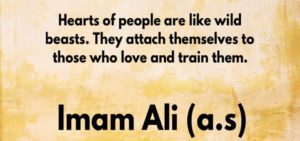 DOSAGE & SUGGESTIVE USAGE  OF COMMON MINERAL MIXTURES
Mix 1 kg Cattle Feed in 100 kg of Feed. 10Kg per ton which is too high
For Regular supplementation
Large Animals – 50 g daily
Small Animals – 5-10 g daily
Example of common sources of mineral sources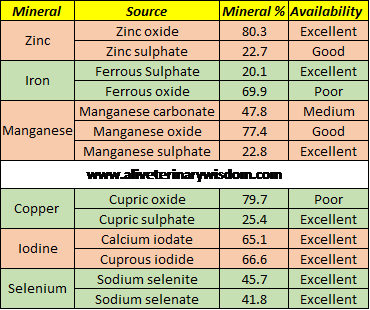 Mineral availability
One of the most important fact in Indian condition is that most of the farmers and technical persons do not know the mineral requirement of animals and always gives minerals on lump sum basis to their animals. Nobody gives a look at the content of mineral mixture and do not know the mineral requirement of animals, in such circumstances talking about bioavailability of minerals is somewhat useless. Further, various researches were conducted in the past about area specific mineral mixtures which emphasized importance of different minerals in different areas. It also put question on importance of single type of mineral mixture with single dose of 50 to 100g in all animals.
No doubt bioavailability of minerals is important factor and chelated minerals are more bioavailable but it cannot override the cost difference between normal non-chelated and chelated minerals. Inside body chelated as well as non-chelated minerals perform same function with same efficiency. Cost difference between chelated and non-chelated is very high atleast 3 to 5 times or more. Let us see an example for imaginary dose of 100mg elemental copper.
| | | |
| --- | --- | --- |
| | Chelated Cu | Non chelated Cu |
| Cost | Rs500 | Rs100 |
| % of copper | 30 | 25 |
| mg of material contain 100mg Cu | 700mg | 636mg |
| Bioavailability | 100% | 75% |
| mg of material contain 100mg Cu @ different bioavailability | 700mg | 848mg (636 X 100/75) |
| Cost | 35p | 8.5p |
Although we do have rather reliable values for mineral availability, mostly for poultry, we currently lack sufficient data to relate these values with actual requirements of animals on an available basis. To this end, it is common practice to use only salts of good to excellent availability, and quite often to use generous safety margins in mineral specifications. All these are possible due to the low cost of mineral salts, but for environmental reasons, some degree of sophistication is required to reduce excesses of zinc and copper.
Organic minerals
Certain organic minerals are more bioavailable than their inorganic counterparts, but this is not a general theme as there are certain inorganic salts that are highly available as well. When using organic minerals to provide trace minerals for nutritional purposes, their availability can be considered as a plus. It is possible to lower initial premix specifications or determine availability levels from inorganic salts before attempting to incorporate organic minerals. In most circumstances, the cost per unit available trace mineral tends to be more expensive than its inorganic equivalent.
Density and inclusion rates
Premix concentration in pure nutrients is of little value unless this information is combined with inclusion rates to give final addition levels per kilogram of complete feed. This last single characteristic is of paramount interest since it determines both product quality and price.
Usually, inclusion rates range from as little as 2 kg to as much as 10 kg per metric ton of complete feed. Levels below 1 kg should be avoided because they do not support optimum blending of the premix with the rest of the raw materials. At the other end, levels above 5 kg tend to occupy too much space especially in sensitive and often high-density diets. Plus, logistics for high-inclusion rate premixes only add to the cost, especially in an exercise undertaken to reduce costs.
Generally, a premix at 2 kg per MT is used in all feeds when a common addition level for all diets is practiced. When variable rates are employed, 1 to 2 kg per MT is sufficient for finishing diets, whereas up to 4 to 5 kg per MT are used for starter and breeder diets. In general, with a home-mixed premix there is considerable room for flexibility that can be built in during the design phase.
Vitamins
It is not generally recommended, even for small-scale feed plants, to buy individual vitamins and blend them. Certain vitamins are particularly unstable or sensitive and require special storage and handling. Plus, most are extremely expensive and the required stock will tie up considerable capital. Vitamin premixes should be bought from a reliable, well-known supplier who supports his or her products with adequate information. Of course, home-mixing is not impossible, but it does require considerably more sophistication than mixing mineral salts.
It should also be noted that vitamins mixing with minerals make them prone to be destroyed by chemical reactions among them, so vitamins should be given separately and do not mixed with minerals.