Ali's Veterinary Wisdom – educating the farmers of the nation" is an initiative taken in livestock and poultry sector which is dedicated for the welfare of farmers and animal husbandry entrepreneurs. We are helping the farmers by providing them sophisticated technical information in easy and lucid language with the help various communication tools to improve production efficiencies of animals and margins of farmers.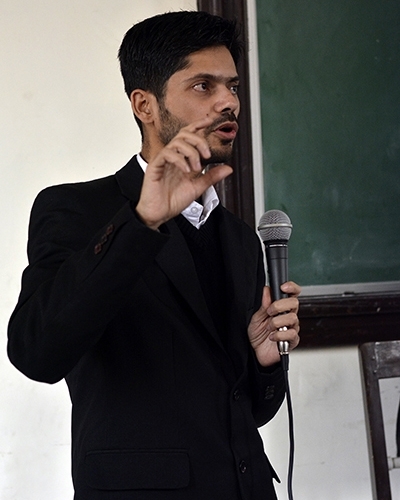 About Dr. Ibne Ali
Dr. Ibne Ali is a young veterinarian & social entrepreneur who is dedicatedly working for the upliftment of veterinary profession and farmers all around the nation and abroad.
Dr. Ibne Ali was born in Amroha (U.P) and brought up in Roorkee (Uttrakhand). After schooling from Roorkee in 2006 he joined B.V.Sc & A.H. program at College of Veterinary & Animal Sciences, Pantnagar (harbinger of green revolution in India).
While pursuing graduation in Pantnagar, he always remain interested in livestock & poultry production systems and its economics. In "earn while you learn" program he twice enrolled for practical poultry production and successfully completed it. He started casual practical training in poultry & dairy farming under professors like Dr. SK Shukla, Dr. AH Ahmed, Dr. DV Singh, Dr. BC Mandal, Dr. Sanjay Singh & Dr. Anil Yadav at college in Pantnagar. He devoted his most of the time in library & field cases to learn practical connection between theory and field cases. He wanted to learn the prevention principles which can easily and affordably implemented on farms rather than cure and treatment.
After B.V.Sc he competed for ICAR's JRF exam for M.V.Sc and got all India 3rd rank in Animal Sciences. He earned scholarship with this exam & joined M.V.Sc course in the department of Veterinary Physiology & Climatology at the apex veterinary institute in India viz. IVRI, Izatnagar, Bareilly (Indian Veterinary Research Institute). During M.V.Sc his major subject was Physiology and minor subject was Biochemistry. He learned principles of animal housing, adaptation & climatology under Dr. VP Maurya and Dr. Gyanendra Singh. He trained in advanced cellular physiology under Dr. G. Taru Sharma, Dr. Mihir Sarkar and Dr. Sadan Bag. His M.V.Sc thesis was done in reproductive physiology/biotechnology under the guidance and supervision of Principal Scientist Dr. Mihir Sarkar on the topic of "Expression and localization of locally produced growth factors regulating lymphangiogenesis during different stages of the estrous cycle in corpus luteum of buffalo (Bubalus bubalis)". This work was published in Theriogenology (Volume 81, Issue 3, Pages 428-436, February 2014) – Elsevier Publications. He also qualified ICAR- NET exam in the discipline Veterinary Physiology, UPSC's IFS written exam, Agriculture Research Scientist mains exam. His thesis work was very much appreciated by his external examiner Dr. MS Chauhan (now director at NDRI).
While doing M.V.Sc he didn't left his interest in livestock farming and always remain in touch with farmers and help them in setting up new farms. He developed his interest in goat farming and gather information on the subject to help new entrepreneurs in the field of goat farming. Meanwhile he got an opportunity to be a part of conference named "International Conference cum Entrepreneurship program on commercial goat farming" in collaboration with ICAR, at PUSA, New Delhi and  "International conference on commercial goat farming" in collaboration with National Cooperative Union of India at APEDA House, New Delhi. Practical learning was always remain central point of his education during his years in Pantnagar & IVRI.
After completing M.V.Sc he joined Pixie Consulting Solutions as editor monthly magazines named Poultry Times of India, Poultry Planner and Dairy Planner. He continued to be in touch with farmers through these publications and learn the aspect of livestock and poultry journalism. In same year he founded an online knowledge platform for goat and poultry farming called GoatGyan and PoultryGyan dot Com. Through goatgyan many people came in touch with him and learn about goat and poultry farming.
Later, he move on to join another role as Technical Manager (Poultry) in Bovian Healthcare Pvt Ltd (now Globion India Pvt. Ltd). His work was in field and he extensively tour in Maharashtra, MP, Karnataka, Telengana, UP & Bihar. He designed and launch many products over there, after some time he was promoted to the post of Product Manager. At Bovian Healthcare, his main responsibilities were Product Management, handling of field queries regarding products, organize monthly technical programs for sales team and farmers on basic understanding and physiology of animals/poultry and specific knowledge of therapeutic/nutritional products of company, field visits of poultry farms, post mortem for disease diagnosis during field visits, inference from disease history of flock and suggestion of drug and dose to the farmers and sales representatives, preparation of technical literature, new product development after researching market and technical/scientific information, conducting trials of new products, popular article writing on behalf of company, suggestion to management regarding technical issues with products
Meanwhile during his part time he authored many Books which was Published by Hind Publications, Hyedrabad (1) Handbook on commercial goat farming (2) Science of buffalo farming (3) Textbook of Poultry Farming (4) Principles of Broiler Farming – ब्रायलर फार्मिंग के सिधांत -2018 (5) Commercial Goat Farming – व्यावसायिक बकरी पालन|
In year 2015, he enrolled himself in entrepreneurial competition organized by Imamia Chamber of Commerce, India at Indian Islamic Center, Lodhi Road. After 4 rounds among more than 30 participants, Dr. Ibne Ali win first prize, which was a trophy, certificate and Rs50, 000/- cash.
After giving services in Bovian he moves to NDDB Dairy Services where he started job as management trainee in Ration Balancing Program under Dr. Manvir Singh. He also completed dairy ration balancing training at NDDB, Anand, and Gujarat.
In 2016, Dr. Ibne Ali moves to explore new horizons in the field of livestock and poultry technical advisory and consultation with the aim to educate the farmers of the nation. Keeping this in mind he launched "Ali Veterinary Wisdom" YouTube channel and website. Many people started following him and get associated at various levels.
As a consultant, he developed many organizations and remain associated with various institutes
Manasvi Agro Farms – He make and implemented a goat farming project under name for Manasvi Agro Farms, Roorkee.
Zehra Agro Farms – Project development and implementation of Buffalo Dairy Farm, Amroha
Era Medical College (agro food & lab animal division) – Visiting consultant, Lucknow
GALVMED – Consultant for Goat farming development & PPR vaccination project in western UP, managed by GALVMED Edinburgh.
Petzo India Pvt Ltd – Pet Nutrition Company. Consultant for product development like Pet Protein Supplement and Stress Buster Electrolyte Canicool, Delhi.
Sanctuary Goat Milk Pvt. Ltd. – Consultant for project development and implementation. Farm development and milk processing plant installation, Faridabad.
Macvet Herbal Pharma – Poultry (Layer and Broiler) product formulation and development consultation, Delhi/Lucknow/Kanpur.
Tresbien Biosynth Pvt. Ltd – Poultry (Layer and Broiler) product formulation and development consultation, Mumbai.
Oxocon Biocon – Poultry and Dairy product formulation and development
Uttarakhand Sheep and Wool Development Board – As a Consultant developed few projects on (1) Boer goat farm establishment, (2) Developed goat farming SOPs and Protocols (3) Feasibility report goat and sheep on abattoir installation in Dehradun (4) goat farming training session.
National Skill Foundation of India – External editor and reviewer of poultry farming training manual.
Insight Alpha – Insight Alpha is a business intelligence partner to many different organizations. Associated as consultant for livestock and poultry health sector.
Besides this – Dr. Ibne Ali give broiler and layer feed formulations to many feed millers and small big farmers.
Apart from this Dr. Ibne Ali take guest lectures and deliver technical talks to various group of people from students to senior officials.
Carrier Counselling & Guidance Talk organized by Tanzeem e Matam, Amroha
Entrepreneurship in veterinary sciences and animal husbandry, organized by Extension Department at IVRI
Delivered a talk as invited expert on "Commercial Goat Farming Opportunities in Uttarakhand" in pantnagar exhibition organized by Department of Animal Husbandry, Uttarakhand.
Guest lecture at Zoology department, Daulat Ram College, Delhi University. Introduction of Livestock and Poultry Sector & its contribution in National Income.
Delivered an online talk to the veterinary students and officials on topic of "Linking Livestock Sciences with Economics under Indian Perspective" organized by IDP-NAHEP (National Agricultural Higher Education Project).
Got 2020 Padam Shree – BV Rao, Global Icon Poultry Consultant Award by Pashudhan Praharee
Regularly organized a seminar for poultry farmers and educate them about practical poultry farming.
Published more than 100 technical videos on his YouTube channel "Ali Veterinary Wisdom". His channel has more than 75,000 subscribers and nearly 3 Million views.
Specialization – Poultry, Dairy and Goat feed formulation, speciality product formulation, and mineral and vitamin mixture formulas.
Right now he is providing consultation to various small big farmers and companies.