Parasitic Verminous Pneumonia in Goats (यह आर्टिकल अंत में हिंदी में भी दिया गया है)
Verminous pneumonia in goats is resulting from one or more species of lungworms occurs in most parts of the world. There are many types of worms that causes this condition. Dictyocaulus, Protostrongylids, Balantidium coli, Besnoitia, Echinococcus granulosus are responsible for verminous pneumonia.
Dictyocaulus Pneumonia in Goats
Although Dictyocaulus filaria is found all around the world, in many parts of the world this lungworm is not very common in goats and do not responsible for serious disease.
Grazing goats are more susceptible to disease and those goats which kept in intensive system of management this parasite seldom causes a problem.
In India, sheep and goats graze the same infested pastures, and goats are believed to be more susceptible to the parasite.
Dictyocaulus filaria lungworms have a direct life cycle which means they do not have any intermediate host. Adult worms live in bronchi and are approximately 30 to 80 mm long.
First-stage larvae approximately 550 μm long are coughed up and eliminated in the feces. Development to an infective stage (3rd stage) takes one to two weeks. These third-stage larvae are long-lived in damp, cool surroundings. After ingestion, there is a one-month prepatent period and three months patency. Signs can occur as early as three weeks after the goats are put on pasture in the spring, but usually occur in autumn. Kids are most severely affected during their first season on pasture; age resistance is via prior exposure. The L4 can last the winter in lungs, but freezing kills larvae on pasture, as does a hot, dry summer.
The main sign during the prepatent period is polypnea (increase breathing); dyspnea (difficult breathing) develops later in the course of infection. The worms cause bronchial irritation, resulting in cough, moderate dyspnea, and loss of condition.
Pathologic findings include bronchitis, bronchiolitis, atelectasis, and emphysema. Auscultable crackles and wheezes, fever, and toxemia occur if there is a secondary bacterial infection. Eosinophilia is marked in reexposed animals. An acute shock syndrome is seen when a significant reinfestation occurs after immunity has weakened.
How to diagnose protostrongylus worms in goat feces?
Diagnosis of Verminous Pneumonia (Dictyocaulus filarial) in Goats
The diagnosis of verminous pneumonia is best done by the Baerman technique.
Faeces are collected fresh from the rectum to avoid confusion with Strongyloides larvae.
Faecal pellets are put in a tea strainer or wrapped in gauze and half-submerged in a funnel of warm 77.7°F (25°C) water; larvae fall to the neck of the funnel.
A conical flask may provide a better yield than the traditional funnel system. The larvae are harvested after four to twenty hours and compared with given photo. The posterior is blunt in Dictyocaulus, whereas it is slender and pointed in Protostrongylus and has a definite dorsal spur in Muellerius. Fecal exams for Dictyocaulus are positive during the patent period of the first infestation only.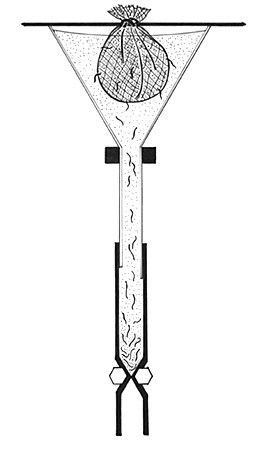 Anthelmintics effective against Dictyocaulus are routinely used in goats, which probably decreases the prevalence of the disease. Treatments include tetramisole (15 mg/kg) or levamisole (7.5 mg/kg) orally or subcutaneously. The drug is eliminated by the respiratory tract.
Also reported to be effective are mebendazole (15 to 20 mg/kg), fenbendazole (5 to 10 mg/kg), febantel (5 mg/kg), and ivermectin (0.2 mg/kg). Owners should be advised not to sell milk or make it into cheese for at least four days after unapproved drugs are used. The milk withdrawal period for ivermectin should probably last at least nine days after oral use and forty days after subcutaneous injection.
Treatment does not allow establishment of immunity, so goats should not be returned to infected pastures. Frequent pasture rotation is often an impractical means of control because moving the goats every four days would be required.
Putting the goats out on pasture early in the season allows progressively increasing exposure and immunity. New goats should be separated from yearlings, and kids should not be placed on pastures inhabited by yearlings within the last year. The goats are treated after stabling in the fall (a warm, humid barn allows the cycle to continue) to limit pasture contamination next spring.
Other suggestions include avoiding overpopulation, draining wet pastures, and replacing ponds with watering devices on concrete slabs. An irradiated Dictyocaulus larvae vaccine has protected goats against experimental challenge.
Pneumonia caused by Protostrongylid Lungworms in Goats
Protostrongylid lungworms include at least five genera. Two are well recognized in the United States; Muellerius capillaris is diagnosed more frequently than Protostrongylus rufescens. Two more (Cystocaulus ocreatus and Neostrongylus linearis) are recognized in Europe and northern Africa, while Varestrongylus pneumonicus (Bicaulus schulzi) is found in Eastern Europe.
The common Protostrongylid lungworms of goats which are found in India are Protostrongylus rufescens, Varestrongylus pneumonicus and occasionally Muellerius spp. In northern Himalayan region of the country its incidence are around 47%.
All types of Protostrongylid lungworms have an indirect life cycle and use a variety of snails and slugs as intermediate hosts. The mollusks remain infective for at least one year.
Goats and sheep become infected by eating mollusks or third-stage larvae liberated on foliage (leaves of fodder) by death of the intermediate host.
Protostrongylus rufescens adults live in bronchi and are approximately 16 to 35 mm long. The first stage larvae are 370 to 400 μm long and have a pointed tail, mostly kids are infected. Huge infestations are unlikely.
Muellerius lungworms usually cause clinically insignificant focal lesions in the lung parenchyma. Adults are present twenty-five to thirty-eight days after infection. They are 12 to 23 mm long and located in subpleural alveoli, never in the bronchi. The infestation is carried over from one year to the next in the goat.
Fewer adult worms are established following reinfection but the inflammatory response in the lungs is much more severe.
Goats do not develop a marked age resistance, and in fact older animals often have heavier infections than those on pasture for only one season. This is in contrast to sheep, which tend to clear the infection. At least forty species of snails and slugs serve as intermediate hosts for Muellerius.
Infestation of protostrongylus is usually subclinical when a number of worms are lesser but in heavily infested goats dyspnea and persistent cough is seen. Coughing can be temporarily abated with anthelmintic treatment. These larvae can be easily demonstrated in faeces.
Lesions (firm tan nodules) are most common in the caudal dorsal lung lobes and are less well localized in goats than in sheep. Because L1 larvae, eggs, and adult worms in "brood nodules" are readily identified in histologic preparations of the lung, it must be remembered that other conditions (such as progressive retroviral pneumonia) must be excluded before ascribing a clinically important pneumonia to these parasites. Also worth considering is the possibility that Muellerius lungworms contribute to clinical retroviral infection by attracting many macrophages to the lungs.
Recommended treatments for Protostrongylus include levamisole and fenbendazole at dosages used for Dictyocaulus. Levamisole is not effective against Muellerius. Two treatments with fenbendazole at 15 mg/kg, three weeks apart, relieved clinical signs and completely eliminated shedding of larvae two weeks later.
Pneumonia in Goats by Eimeria and Other Protozoa
A persistent cough is often associated with severe coccidial infection in young kids. The connection may be only that kids stressed by the poor nutritional state that accompanies coccidiosis are more prone to bacterial pneumonia. Prevention of coccidiosis is very important to keep kids healthy so that weight gain and growth have not been hampered. Keeping kids away from feeders and adults and providing dry environment can reduce coccidial infection. Now better preventive measures in the form of pre and probiotics are available.
Echinococcus granulosus hydatid cysts occur in goats in many parts of the world, especially Mediterranean countries, India. Goats appear to be less susceptible to infection than sheep in a given area, possibly because browsing causes less exposure to dog feces than does grazing. Cysts are most often observed in liver and lungs in goats.
Dogs are the definitive host and herbivores or humans are intermediate hosts. Prevention of zoonotic infection requires breaking the cycle between definitive and intermediate hosts. All dogs should be treated (preferably with praziquantel) and faeces passed after treatment should be destroyed. Eggs excreted in feces of dogs remain infective for at least one year. Wild dogs must be controlled. Access by dogs to carcasses of ruminants that die or are slaughtered on the farm or at the local slaughterhouse must be prevented.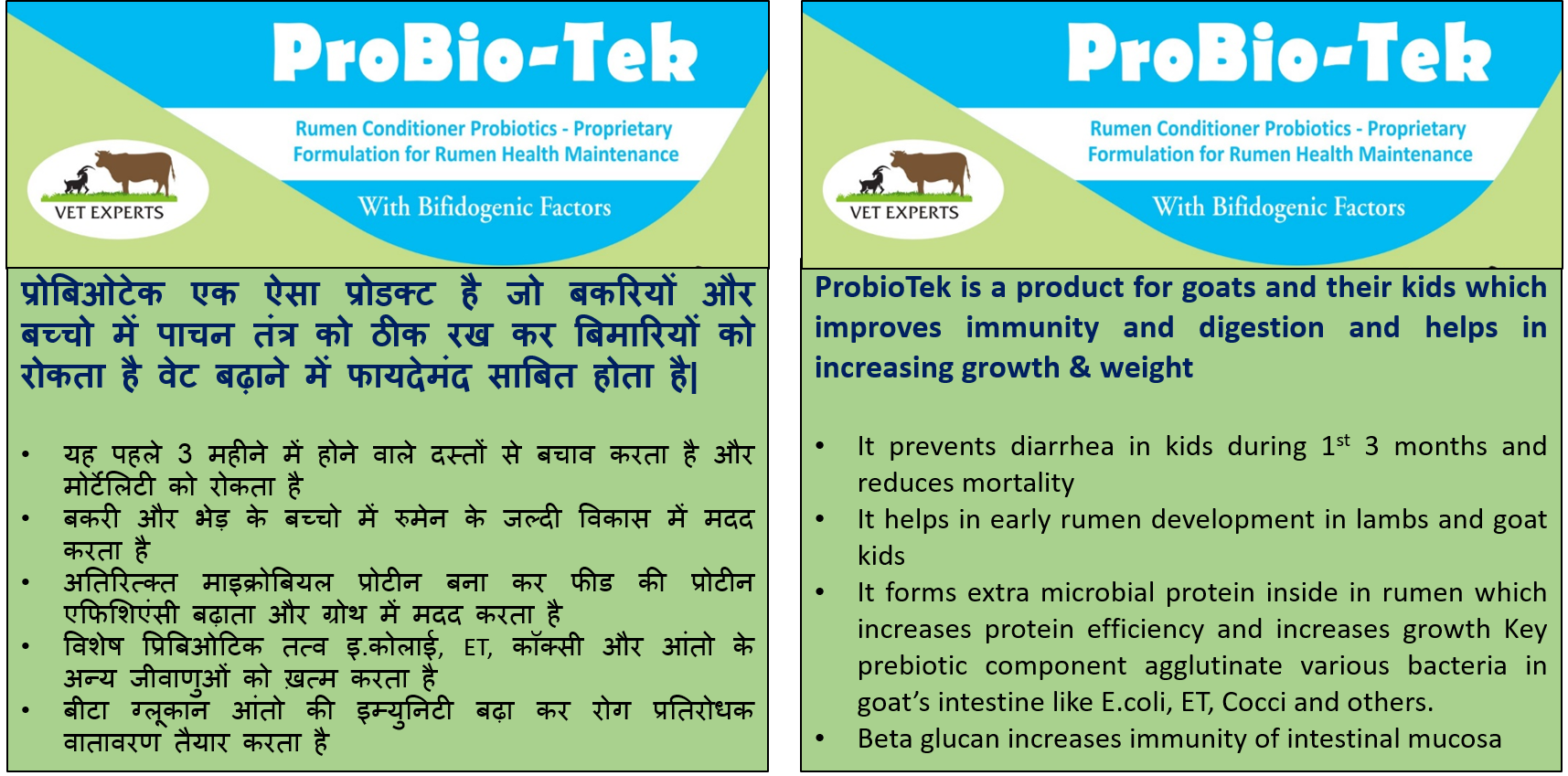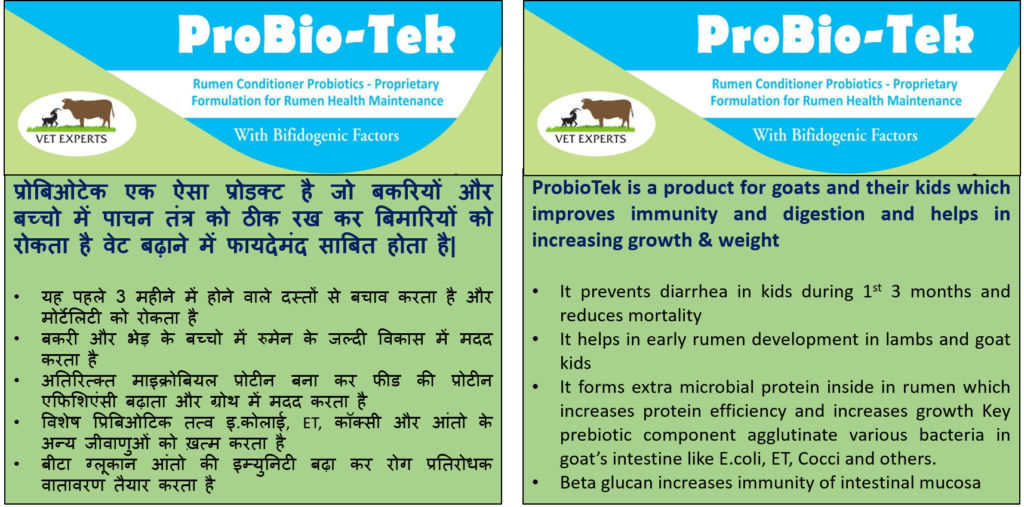 परजीवीयों द्वारा बकरियों में निमोनिया होना एक आम बात है यह लगभग दुनिया से सभी भागो में देखा जाता है
इसका कारण स्ट्रोंगाईलॉईड वर्म्स होते हैं जैसे डिक्टियोकौलस, प्रोटोस्ट्रोंगाईलॉईड, इकाईनोकोकस आदि|
डिक्टियोकौलस अधिक त्रीव बीमारी नहीं करते और ये अधिकतर चरने वाली बकरियों में देखने को मिलता है
भारत में भी यह पाया जाता है और भेड़ बकरियों दोंनो को बिमार करने की क्षमता रखता है
इसका जीवन चक्र डायरेक्ट होता है और कोई और जीव इसके जीवन चक्र का हिस्सा नहीं होता पूर्ण रूप से विकसित लार्वे बकरियों की ब्रोंकस (साँस लेने की नली) में होते हैं|
जब बकरी खांसती है तो यह उसके हलक में आ जाते हैं जिन्हें वो निगल जाती है और वो गोबर द्वारा बहार निकल जाते हैं पर्यावरण में आकर वो विकसित होते हैं और पेड़ पौधों की पत्तियों पर चिपक जाते हैं जिससे अन्य बकरियां भी संक्रमित हो जाती हैं|
संक्रमण के शुरू में सिर्फ साँस की रफ़्तार में तेज़ी दिखाई देती है लेकिन जैसे जैसे बिमारी आगे बढ़ती है साँस लेने में तकलीफ शुरू हो जाती है| बकरी लगातार खांसती रहती है और किसी प्रकार की खांसी की दवाई फायदा नहीं पहुंचाती|
इन परिजीवियों का पता लगाने के लिए एक टेकनिक का इस्तेमाल किया जाता है जिसे बेरमन टेकनिक कहते हैं
इस टेक्निक में बकरी के रेक्टम से डायरेक्ट मेंगनी को लेकर चाय छलनी में ले लेना चाहिए या फिर किसी कपड़े में ले लेलें (कपड़ा चाय की छलनी की तरह जालीदार हो) इसे तस्वीर में दिखाए गए कीप में आधा पानी में डुबा कर रख दें, पानी का 25 डिग्री सेल्सियस के लगभग हो नहीं तो लार्वे ठीक से नहीं निकल पाएंगे| कीप के नीचे एक नोकीली ट्यूब रख दें जिसमे लार्वे जमा हो सकें|
डिक्टियोकौलस के लिए लिवामिसोल कारगर रहती है इसे 7.5 mg/kg बॉडी वेट की डोज़ से इस्तेमाल करें अधिक डोज़ टोक्सिसिटी कर सकती है| इसके अलावा फेनबेंडाज़ोल 5 to 10 mg/kg बॉडी वेट, इवेर्मेक्टिन 0.2 mg/kg बॉडी वेट के हिसाब से दिया जा सकता है
डिक्टियोकौलस की तरह दूसरे प्रोटोस्ट्रोंगाईलिड जैसे वेरस्ट्रोंगायिलस, मुलेरिस और प्रोटोस्ट्रोंगायिलस रुफीसेन्स भी निमोनिया और खांसी पैदा करते हैं यह आम तौर से भारत में मिलते हैं और बकरियों में संक्रमण करते हैं इनके द्वारा किये गए संक्रमण अधिक तीव्र होते हैं लेकिन बिमारी इसपर निर्भर करती है की कितने लार्वे फेफड़ो में मौजूद हैं| दूसरा पहलू यह है की इनका जीवन चक्र डिक्टियोकौलस की तरह डायरेक्ट नहीं होता इन प्रोटोस्ट्रोंगाईलिड के जीवन चक्र को पूरा करने के लिए अन्य जीव भी रहते हैं यह जीव घोंगे होते हैं| चरागाह में घोंगो की संख्या कण्ट्रोल करके इनके संक्रमण को कम किया जा सकता है|
डिक्टियोकौलस की तरह लिवामिसोल वेरस्ट्रोंगायिलस, मुलेरिस और प्रोटोस्ट्रोंगायिलस रुफीसेन्स में काम नहीं करती इसमें फेनबेंडाज़ोल 15 mg/kg बॉडी वेट के हिसाब से दी जाती है|
कॉक्सी और कुत्तो में पाए जाने वाला परजीवी इकायिनोकोकस भी खांसी और निमोनिया करते हैं, कोक्सी को कण्ट्रोल करने से बकरी के बच्चो में खांसी और निमोनिया को कम करने में मदद मिलती है