Energy metabolism in cows
Acetonaemia, which is also called ketosis or slow fever, occurs in higher-yielding cows in early lactation.
To appreciate why the disease occurs and also what causes fatty liver syndrome, we need to understand a little of the biochemistry of the metabolism of the cow.
High carb feed (corn/wheat/barley) goes into Rumen where Propionate forms, that enters in Liver through blood and forms à Glucose
Main function of Glucose is in the synthesis of milk, and in fact the rate of milk production is largely determined by the rate of supply of glucose to the udder.
In fact in metabolic profiling of blood glucose is measured to know the energy status of cows.
Propionate also has second function in which involvement in fat metabolism, or more precisely in the release of useful energy.
Fat is stored in the body as 'triglyceride'; that is, three long-chain fatty acids (= 18 carbon chains, stearate) attached to a molecule of glycerol.
The cow in early lactation is unlikely to be able to consume sufficient energy in her diet to meet the needs of milk production and so she sends out an alarm signal to her fat stores.
Fats broken à NEFA (Non Esterified Fatty Acids) –> comes in blood and goes to the –> Liver
In liver NEFA –> undergoes catalytic beta oxidation –> this release some energy & ACETATE
Acetate requires propionate for further decomposition and energy release.
Fiber feed in rumen releases –> acetate & butyrate –> this directly comes into LIVER
In liver butyrate also converted into acetate –> further increases propionate requirements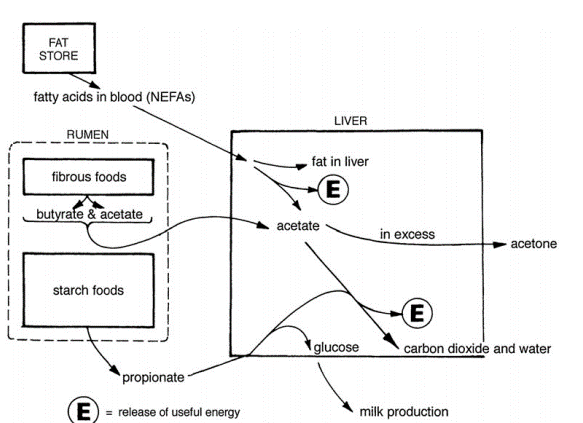 Acetone formation
If cow is underfed all of its glucose will be used for milk production
Body sends signal for energy generation –> fats are released from depots –> some energy is provided by NEFA and converted into acetate –> fat metabolism don't go further because propionate is not present –> acetate start building up in the liver –> 2 molecules of acetate forms 1 molecule of acetone
Acetone from liver –> goes in to blood & the condition is known as Acetonemia
Acetone is ketone body –> ketosis [less starch in diet & high fat mobilization]
Other ketone bodies –> acetoacetate & beta-hydroxybutyrate
In MPT beta-hydroxybutyrate is used to know the energy status of animal. High value indicate deficit energy. A value of 1400μmol/L of beta hydroxy butyrate (BHBA) or greater in blood has been established to differentiate cows with and without subclinical ketosis.
Clinical signs of ketosis
It is a problem of higher-yielding cows four to eight weeks after calving
Can be seen soon after calving as part of the much more serious condition of fatty liver
The first symptom is likely to be reduced food intake and reduced yield.
Animal refuses concentrate but eat forage
Animal become dull & lethargic, rumination virtually ceases, the dung becomes dry and hard, and milk production falls.
Acetone can affect the brain and these animals become excitable, circling, froth at the mouth, bite & lick objects excessively or stand with their heads raised and pushed into a corner. Some Cows may even collapse in the parlour, resembling hypomagnesaemia.
The best diagnostic sign is the smell of acetone on the breath, which has a 'sharp' scent, like nail varnish remover.
If you are in doubt, try sniffing the breath of a normal cow, then the breath of an affected cow and finally a bottle of nail varnish remover, which is neat acetone.
Rothera test: The most common methodology is the use of a colorimetric test to detect the presence of acetoacetate in urine


Treatment
Steroids or glucocorticoids (both of which are immunosuppressive, hence the need to eliminate the possibility of infection) – 5 to 10ml per day
5% DNS – slow IV (don't give oral glucose)
Oral propylene glycol or glycerol (300ml)
Calcium/Sodium propionate (300g) – utilize acetate
Vitamin B complex – especially carb metabolizing vitamins i.e. THIAMINE, VIT B12, BIOTIN
Gradually animal start eating high energy concentrate
Prevention
Gradually animal start eating high energy concentrate after parturition. Energy protein ratio should be maintained especially in high protein diet. At least 2700Kcal ME/Kg should be present.
Excessive fiber, silage with poor palatability, e.g. with a butyric fermentation, high nitrogen levels, or diets with a gross excess of protein. These factors can lead to out – breaks of acetonaemia, with quite large numbers of cows affected.
Fatty cows have reduced appetite after calving
Feed intake should monitor – animal should gradually increase its intake of concnetrate
When production starts increasing – provide glycerol & calcium propionate to the animal
Cow giving 30 liter milk should be given 300ml glycerol and 300g Ca propionate per day for 4 times in a week. This works only when liver is healthy.
Monensin, coated choline, Niacin is also works good in prevention of ketosis in fresh cows
किटोसिस
अधिक उत्पादन करने वाली गायों में उर्जा की कमी बहुत आम होती है| यदि ब्याने के बाद दाना चारा बैलेंस न हो और दूध उत्पादन बहुत अधिक हो रहा हो तो उर्जा की कमी बढ़ने लगती है जिससे पशु किटोसिस की स्थिति में पहुँच जाती है| गाय भैंसों में एक के पाचनतंत्र में मनुष्यों की बनिज्बत एक फर्क होता है वो ये की हम उर्जा के लिए जो भी खाते हैं (गेहूं मक्का आदि) वो सब ग्लूकोस में बदल कर खून में पहुँच जाता है लेकिन हमारे पशुओं में ये ग्लूकोस में न बदल कर वोलेटाइल फैटी एसिड में तब्दील होता है जिन्हें VFA कहा जाता है ये VFA ही पशुओं को उर्जा प्रदान करते हैं| ये तीन तरह के होते हैं एसीटेट, प्रोपिओंनेट और ब्यूटाईरेट| पर पशु की कुछ कोशिकाएं जैसे दिमाग आदि VFA को इस्तेमाल नहीं कर सकती उसके लिए ग्लूकोस की आवश्यकता ही होती है इसलिए प्रोपिओंनेट से लीवर के अन्दर ग्लूकोस बनाया जाता है| ग्लूकोस दूध उत्पादन के लिये भी बहुत आवश्यक होता है बिना ग्लूकोस के दूध उत्पादन संभव नहीं होता क्यूंकि ग्लूकोस से लैकटोस बनती है जो की मिल्क शुगर होती है| लैकटोस दूध की मात्रा को निर्धारित करती है जितनी अधिक लैकटोस होगी उतना अधिक दूध बनेगा| जब पशु ब्याने के बाद दूध की मात्रा को बढ़ाना शुरू करता है तो उसकी उर्जा की आवश्यकता भी बढ़ने लगती है ग्लूकोस दूध उत्पादन की तरफ डाइवर्ट होने लगता है और पशु को अतिरिक्त उर्जा की आवश्यकता पड़ने लगती है, इसको देखते हुए बॉडी अपने फैट का इस्तेमाल करना शुरू करती है और फैट नेफा के रूप में खून में आने लगता है यह नेफा लीवर में पहुंचता है और इसका कटाबोलिज्म होने लगता है| नेफा जब लीवर में टूटता है तो कुछ उर्जा बनाता है और अंत में एसीटेट बन जाता है| इस एसीटेट को इस्तेमाल करने के लिए प्रोपिओंनेट की आवश्यकता होती है