The Gumboro virus is so widespread and so resistant in the environment that almost every chicken will be challenged during the course of its life. For this reason, vaccine-induced immunity must constantly be at a high level and the vaccination coverage rate must reach 100%. On top of this, vaccination is also supposed to lower the challenge pressure for the following cycles of production, so Gumboro vaccination is not only a protection tool but must also accomplish the mission of controlling the disease.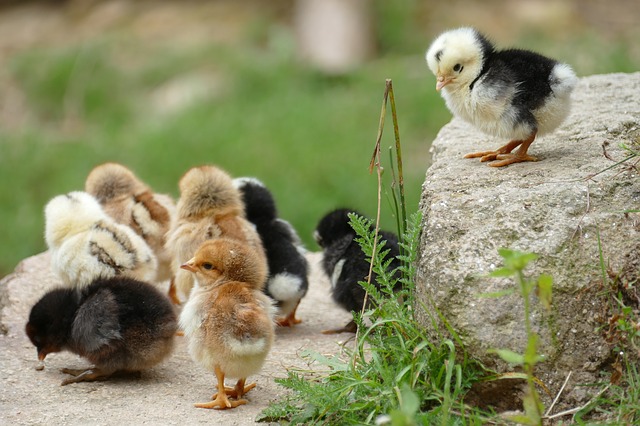 Protection during the first weeks of life comes from passive immunity transmitted by the breeders to their progeny, and is then ensured by active immunity induced by vaccination. Passive protection must be high, homogeneous and adapted, so that age at susceptibility to challenge is delayed at least after 2 to 3 weeks. Active protection must be able to start in the presence of this still-effective passive protection and take over in all chickens when it has come down to an insufficient level.
A successful vaccination program means a successful combination of both a careful selection of an adapted vaccine and the use of an effective procedure of administration. These two components are not independent because every vaccine is more or less linked to one or more recommended routes of administration.
An ideal vaccine against Gumboro Disease needs to fulfill the following five basic requirements:
◗ Be safe, so that no immunodepression or any other side effect is induced.
◗ Be effcacious in protecting chickens against the negative consequences of infection by the specifc Farm IBDV, so that growth potential and capacity of resistance to diseases remain untouched.
◗ Make broilers or commercial layer pullets resistant to infection so that viral pressure will be progressively reduced, and no antigenic selection will be exerted on the resident population of IBDVs. This way, no help will be available for a new variant to pop up, escape passive protection, and create the detrimental early infections.
◗ Be able to take in the presence of passive immunity, whatever it is, so that the timing of vaccination is not an issue and active immunity can actually take over from passive immunity.
◗ Be able to compensate for (limited) vaccination misses by spreading or other mechanisms.
The available Gumboro Vaccines
At present, Gumboro vaccines from the following four categories are available:
◗ Inactivated (or Killed) IBD vaccines containing a high amount of inactivated whole IBDV or subunits of IBDV presented in an emulsion made of mineral oils that plays the role of adjuvant. Most of the time, available emulsions are of the 'water-in-oil' type.
◗ Classical Live attenuated IBD vaccines are prepared from live attenuated IBDV strains and presented as freeze dried (lyophilized) products. The IBDV strains used for these vaccines have been naturally or artificially attenuated so that we can recognize different types depending on their degree of attenuation: 'Mild' (highly attenuated), 'Intermediate' (very attenuated), 'Intermediate Plus' (moderately attenuated) and 'Hot' (poorly attenuated).
◗ Immune Complex IBD vaccines are prepared from live attenuated IBDV strains of the Intermediate Plus type mixed in well-defined proportions together with specific anti-IBDV serum. The final product is freeze dried.
◗ Commercially available Recombinant Vector IBD vaccines are made from a genetically engineered virus ('the vector') whose genome contains a gene from a specific IBDV ('the donor') encoding for the VP2 capsid protein of IBDV. As of today, the Herpes Virus of Turkey (HVT) is used as a vector and is presented in the nucleus of chicken embryo fibroblasts (CEF). For this reason, the vaccine is a suspension of infected cells kept frozen in liquid nitrogen.
Many investigations and experiments as well as years of use have greatly increased our knowledge regarding these various categories of vaccines, so that today we know much better what can, and should be, expected from them, beyond the simple criteria of 'protection'.
The points to take into consideration are safety under real field conditions, efficacy under various conditions of challenge, and considering protection against the clinical (or sub-clinical) disease and against infection ('viral protection'), as well as short and long term consequences on the evolution of the disease and dynamic of the immune response, with special regard to the onset of immunity, which needs to fit the characteristics of the challenge.
For regular technical updates on poultry follow us on Instagram and Facebook
Subscribe our youtube channel for poultry-related technical videos Ali's Poultry Wisdom