Goats breed and breeding trends
Nearly 30 breeds of goats are found in India and distributed in various breeding tracts of different states. Most of the breeds are found in Rajasthan, Western Uttar Pradesh, South Haryana and Western Madhya Pradesh. West Bengal also has a sizable population of goats. Most popular breeds of these states are Sirohi, Totapari, Jamunapari, Barbari, Jhakrana and Beetal. As 90% of goat rearing in India is for meat production and these breeds perform satisfactorily well in this trait. Their growth rates are good and stature is large. Interestingly milk production in these breeds is good but hardly estimated as its market is not much available and it let consumed by their kids to gain meat. Milk production varies between 0.75 litres to 3 litres per day depending upon breed and stage of lactation and of course feeding.
Milk Production and Other Characters of Different Breeds
Goat milk is rich in certain amino acids, certain minerals and certain vitamins. Average milk yield from milch breed of goat is 1.25 – 1.50 litre/day with a lactation period of 150 -180 days. National milk yield from goat increased from 1.1 m Mt in the year 1980 to 2.5 m Mt in the year 1990 with a growth rate of 6.8 %. It has increased to 4.0 m Mt in the year 2008 with a growth rate of 2.6 % (FAO, 2008).
Goat meat is very rich in protein, energy and fat. Best quality meat is obtained from a goat of age group 9 – 12 months. At this time dressing per cent of goat is observed to be 50 – 55 %. In India meat production from goat increased from 0.31 m Mt in the year 1980 to 0.43 m Mt in the year 1990 with a growth rate of 0.9 %. It has increased to 0.48 m Mt in the year 2008 with a growth rate of 2.4 % (FAO, 2008).
Goat Manure on an average each adult goat produces manure @ 500 g / head/day. The manual value of goat manure is also very high. Nitrogen, phosphorous and potassium content of fresh goat manure is 2.20 – 3.70 %, 0.25 – 1.80 % and 0.90 – 1.25 % respectively. Goat litter was reported to use as feed supplement replacing concentrate feed at different levels to all livestock species.
It was revealed that 5 % litter supplemented feed while fed to sheep and goat, sheep consumed 65.84 % whereas goat took only 30.74 %. In cattle while 10 % and 15 % supplemented feed was provided, the intake was 64.5 % and 54.8 %.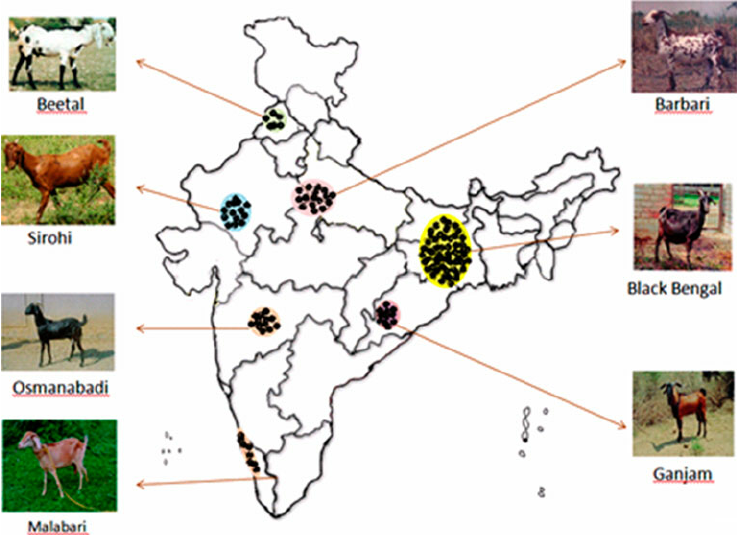 Regarding Milking Capacity of Different
Black Bengal: The Black Bengal is found in the eastern region of India, in the states of West Bengal and adjoining areas in Jharkhand, Bihar, Orissa, Assam, Mizoram and Tripura. It is the most prolific among Indian breeds. Multiple births are common 2, 3 or even 4 kids are born at a time. Kidding takes place twice a year. Milk yield is low and is barely sufficient to feed the kids
Ganjam: The ganjam breed, also known as dalua, is found in eastern India, primarily in the gajapati, rayagada and Koraput districts of Odisha. Average adult weight of male and female is 40 kg and 30 kg respectively. The kidding percentage is 82 and the litter size is primarily single (95 %). Kidding takes place once a year. Milk yield is about 2 kg/day and the average lactation period is 150 days.
Jakhrana: The jakhrana breed is found in the north-west arid and semi-arid regions mainly in eastern Rajasthan. The breed derives its name from the jakhrana village in Alwar district of Rajasthan where it is found in its purest form. This breed is well known for its milk potential averaging a daily yield between 2 to 5 litres.
Jamunapari: Jamunapari- the Pride goat of India, is a large dual-purpose breed commonly found in UP in between Jamuna, Ganga and Chambal river. The national Bureau of animal genetic resources has put the jamunapari goat breed on the 'endangered species list'. Average adult weight of male and female is 45-50 kg and 40-45 kg respectively. Average milk yield is 1.50 – 2.00 kg/day with a total lactation yield of 280 kg in a lactation period of 270 days.
Beetal: The Beetal is native to the districts of Gurdaspur, Amritsar and Ferozepur in Punjab. The breed is a good dairy type, second to jamunapari in size but is superior to it in respect to proliferation and adaptability to various agro-climatic zones and also to stall feeding. It is well known for milk production and has largely been used in cross-breeding and other goat improvement programmes. Average adult weight of male and female is 50 – 55 kg and 35 – 40 kg. Average milk yield is 1.50 – 2.00 kg/day. The average milk yield per lactation is 288 kg.
Barbari: The Barbari breed has mainly evolved and adapted in the northwestern arid and semi-arid regions, and more specifically in the Etah, Etawah, Hathras, Mathura, Agra and Aligarh districts of Uttar Pradesh. This breed is prolific. The adult body weight in male and female is 40 and 25kg. Average milk yield is 0.750 – 1.00 kg/day. It kids twice in a period of 12 – 15 months.
Osmanabadi: Osmanabadi goats are native to the Latur, Tuljapur and Udgir taluks of osmanabad district of Maharashtra, from where they derive their name. The breed is considered useful both for meat and milk. Average daily milk yield varies from 0.5 to 1.5 kg for a lactation length of about 4 months.
Konkan Kanyal: Konkan Kanyal goat is meat-type breed adapted to high rainfall and hot and humid climate of Konkan region of Maharashtra. Konkan Kanyal goats were registered as a distinct breed by the national Bureau of animal genetic resources in May 2012. The bodyweight of adult bucks and does averages 35 and 30 kg respectively. Milk yield varies but low production.
Malabari / Tellicherry: Malabari also known as tellicherry are native to Kerala. Malabari goats are reared for milk and meat and their skin is popular in the tanning industry. The breed is quite prolific and has a 50 % twinning, 25 % triplets and 5 % quadruplets kidding percentage. The milk yield ranges from 0.5 to 1.5 kg/day with an average of 90 kg in a lactation period of 150 days. The adult weight of male and female is 40 and 35 kg respectively.
 Sirohi: It is distributed in Sirohi and Udaipur districts of Rajasthan, Gujarat and Karnataka. The breed is well suited to stall feeding. The breed is used mainly for meat. The milk yield is relatively small, about 0.4 to 0.5 kg/day, with an average milk yield of 65 kg over a 145 day lactation period.
 Marwari: The native tract of the Marwari goat breed in western Rajasthan – the districts of Barmer, Jaisalmer, Bikaner, Jodhpur, Jalore, Pali and Nagaur. This is a dual-purpose breed, reared for both meat and milk and is well adapted to the harsh environment of the Thar Desert. The milk yield varies from 0.5 to 1 kg when reared on grazing and from 2 to 3 kg under stall-fed conditions.
 Kutchi or Kathiawari: The Kutchi or Kathiawari, is an important dual-purpose (meat and milk) goat breed, native to the Kutch district of Gujarat. The adult weight of male and female is 45 and 40 kg respectively. Average milk yield is around 2 kg/day under stall-fed conditions and 0.5 to 1 kg on grazing resources. The lactation length is about 6 to 7 months