Among nematodes, Haemonchus contortus is widely prevalent and highly pathogenic in goats.
This infection causes severe diarrhoea and anaemia due to the voracious blood sucking nature of the parasite in the abomasum. H. contortus infection leads to gastric haemorrhages and sudden death.
The intestine can also be infected with Ostertagia, Trichostrongylus columbriformis, Cooperia spp., Strongyloides papillosus, Nematodirus spp., Bunostomum trignocephalum and Gaigeria pachyscelis, associated with acute to moderate green- or black coloured foul-smelling diarrhoea with continuous soiling of the perineum and tail. All these worms are responsible for catarrhal or haemorrhagic enteritis and retarded growth of animals.
Heavy infection may cause death. In prolonged infections, intermandibular oedema (bottle jaw) and anaemia may develop.
In chronic cases, there is dullness, loss of body condition and gradual weight loss, which affect production and performance.
Evidence of high faecal egg count and heavy worm load in necropsy are indicative of parasitic gastroenteritis. Therefore, periodical faecal examination is necessary for detection of egg loads to decide anthelmintic treatment.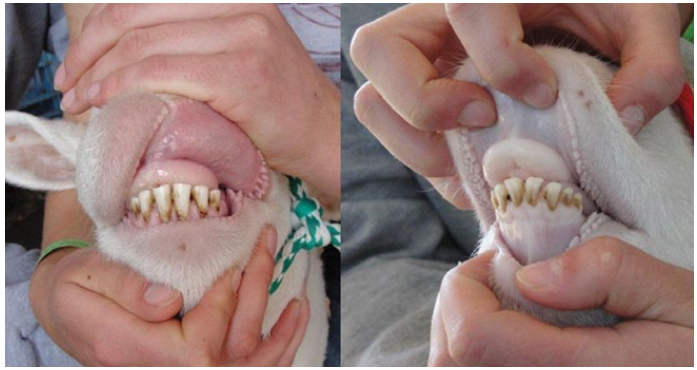 Anthelmintic drugs used to treat and control infections include tetramisole (8–10 mg/kg body weight [BW]), albendazole / fenbendazole (7.5–10 mg/kg BW), morantel citrate (10 mg/kg BW), doramectin / ivermectin / eprinomectin / moxidectin (0.2–0.4 mg/kg BW) and closental (7.5 mg/kg BW).
What are typical signs of parasitism in goats?
Weight loss—Animals don't get all the nutrients they need.
Diarrhea— detected by the dirty tail and hind end.
Rough hair coat— when nutrients are insufficient, the animals' hair loses its luster.
Depression—Animals keep their head and ears down and are not willing to stand for long periods of time.
Weakness—Animals are easier to catch or unstable when walking.
Anemia—Animals' gums, perineum, and eyes appear white due to blood loss.
Fever or, in the late stages of the disease, cold extremities (e.g., ears and legs).
Fast breathing (lungworms)—Animals try to get oxygen into their damaged lungs.
Coughing (lungworms)—Animals cough from the irritation of their damaged lungs.
Bottle jaw (stomach worms and liver flukes)— Animals have fluctuant swelling under the jaw from the accumulation of fluid (submandibular edema). Sometimes it can spread to under the abdomen.