Basics of Layer Farming Part – Practical Points to Start Layer Farm – अन्डो के लिए फार्मिंग – भाग 1 – How to Start Layer Farming? – Layer Farming Investment 
Scope of Layer Farming
India ranks 3rd in World's Egg Production & 4th in Broiler Production.
Last decade egg consumption increases from 30 to 68 eggs annually per person.
Poultry meat consumption has been increased from 400g to 2.5Kg in last decade.
As per human nutritionists a person should eat 180 eggs and 20Kg meat in an year.
Size of Industry
India is producing 800 million eggs annually.
Size of industry spans around 1 lakh Cr Rupees.
Nearly 750 Cr poultry products have been exported to middle east and European Countries esp Germany and Netherlands.
Whole industry uses 18Cr MT of feed annually.
Division of Industry
Layer birds – mainly rear for eggs
Broiler birds – mainly rear for meat
Backyard poultry – country birds mainly rear by poor villagers; use for meat and eggs
Distribution in the Country
70% of total layer birds are present in 5 southern states: Andhra Pradesh, Telangana, Tamil Nadu, Karnataka & Maharashtra
Haryana is the only Northern state where sizable layer population is present
Uttar Pradesh is rapidly developing its layer farming sector
Sample Project of 10,000 birds – Land
For this project 1 acre land is required
Land should be away from population and in open area, preferably surrounded by trees
Water logging problem should not be there and power availability must be ensured
Water quality must be acceptable (TDS within 1500)
Land should be properly fenced
Land development
Land should be properly fenced – wall fencing
Farm long axis should be in East West direction
Farm should be separated from other structures like feed storage, office, labor house etc.
If trees are not present one should sow trees around farm
Tress should not invite unnecessary birds which may bring diseases
Requirements
Housing infrastructure
Cages and equipment
Layer birds
Feed and nutrition
Medicine and supplements
Life of Layer Bird
Life of layer bird is divided into 3 phases
Chick stage – also k/a brooding – zero to 7th week
Grower stage – it extends from 8th to 16th week
Layer stage – it is egg laying stage, it extends from 17th week to culling
Housing
In large farms 3 type of sheds are required (1) brooder shed (2) grower shed (3) layer shed at different places
In this project 3 sheds could be required; one for chicks, growers and for layers – when chicks develop in cages
In other format chicks can be grown in deep litter system where only 2 sheds could be sufficient
Concept
Brooder shed : Grower shed : Layer shed are in the ratio of 1:1:4
In 10,000 layer farm 2500 : 2500 : 10000 system would be followed
It means brooder shed for 2500 chicks capacity, grower shed for 2500 birds capacity and layer shed for 10000 birds capacity will be made
Growing cycle (Cage System)
Farming should be started with 2500 day old chicks
After 7 weeks chicks should be transfer to grower cages and new chicks brought in chicks shed
In 4 batches (28 weeks) layer farm completed
After 16 weeks grower should be transfer to layer cages and chicks to grower & again new batch in chicks shed
Growing cycle (Cage System)
Laying start at 18 week of age; by 24th week it reaches to >90% & maintain upto 45 week; by 50 week it start declining and out by 72 week
This cycle goes continuously from chicks to grower to layer
Now when 1st batch reaches to 55 week age new chicks could be introduced in chicks house
Alternate system (deep litter)
In case you do not want to spend money on chick cages and shed than you can keep chicks in deep litter system (just like broilers) upto grower age (16 week) and transfer directly to layer cages.
Although many people rear in deep litter but this system is risky for bird's health and management point of view.
In deep litter system – 1sqft area per bird is required.
House planning layer farm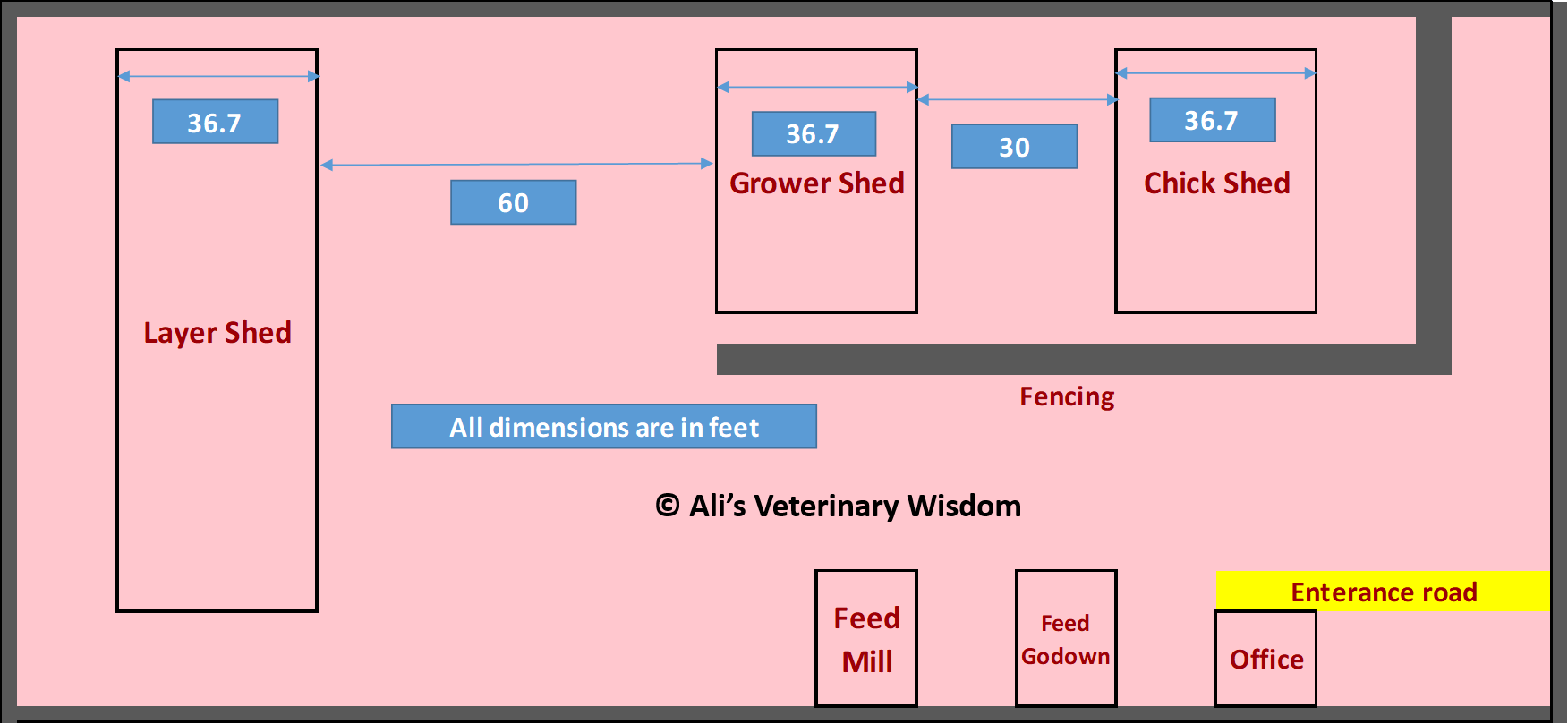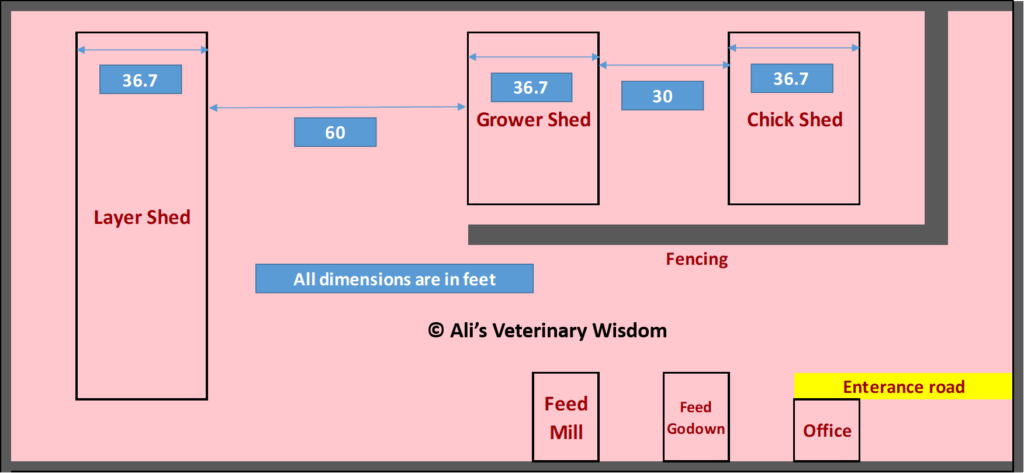 Chick Housing – 0 to 7 Weeks 
Cage System
Expansive
0.28sqft space
Easy management
Less disease
Deep Litter System
Cheap
0.5sqft space
Difficult mng
More disease
Housing Chicks – cage system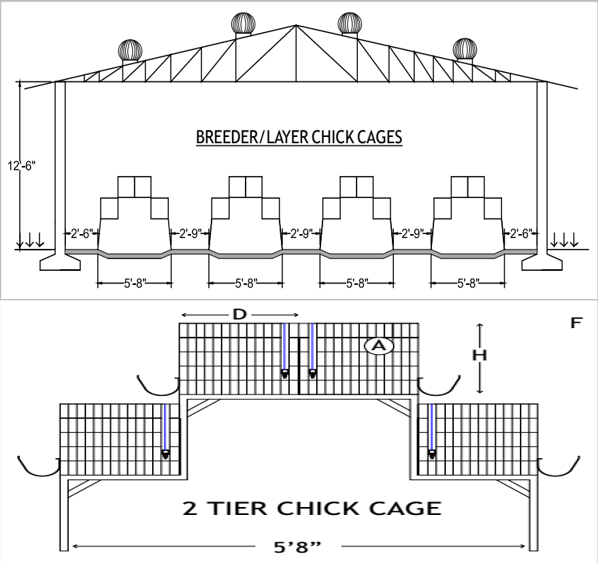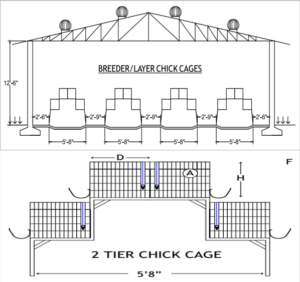 Cages are preferably 2 tier system
There may be 3 or 4 sets of cages depending on farm size and economics
Depending on cages width of farm will be either 24ft to 36ft. In 10,000 farm 2 or 3 sets are sufficient (in this case we consider it 36.7ft)
Total number of chicks per box would vary depending upon the age. The recommended numbers are: 30 chicks/box between 0-3 weeks and 15 chicks/box upto 4-7 week.
Depending upon fabricator size of cage varies. In 18x15x15 inch size 9chicks upto 7th week, 5birds upto 16th week and 4birds from 17th to culling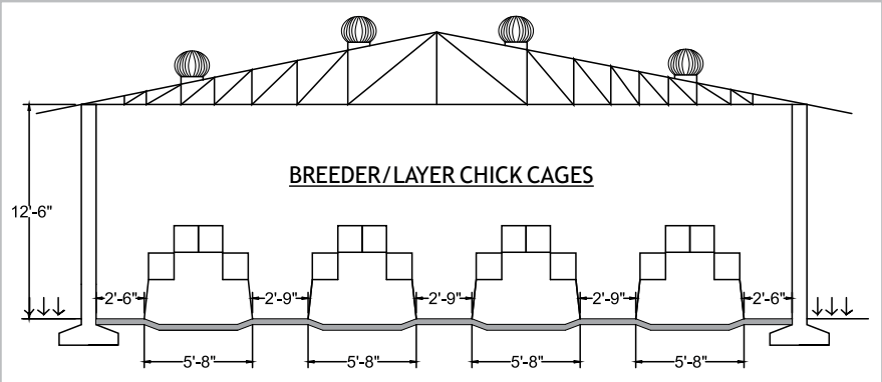 Housing Growers – cage system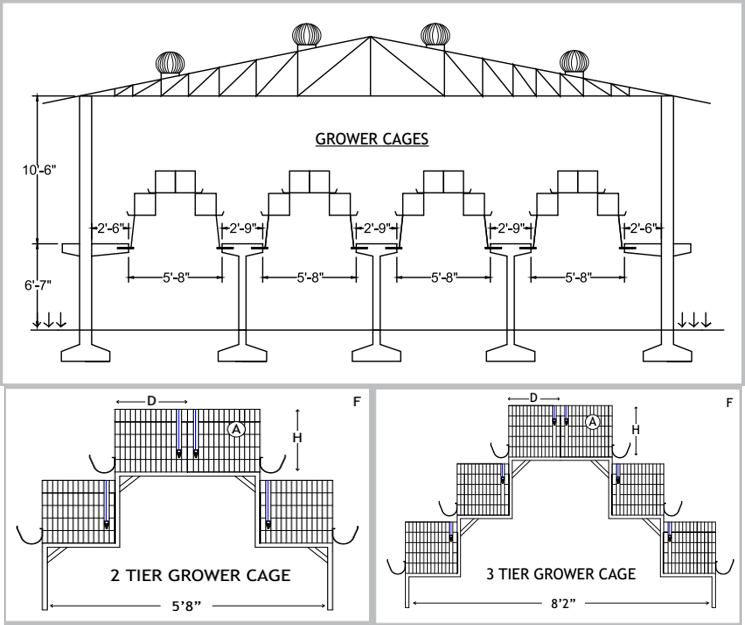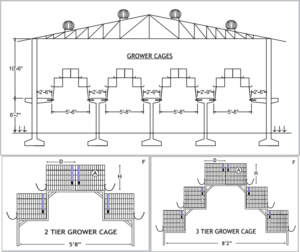 Cages could be 2 or 3 tier system
There may be 3 or 4 sets of cages depending on farm size and economics
In 10000 birds project 3 rows are sufficient and width of farm is 36.7ft
Farm erect on pillars. Provides a floor area of 270 sq. inches and can accommodate 5 birds from 8 weeks of age up to 16 weeks of age allowing for 54 sq.inches per bird. The bottom of these cages is flat and should have a mesh of 0.5″ x 1.0″.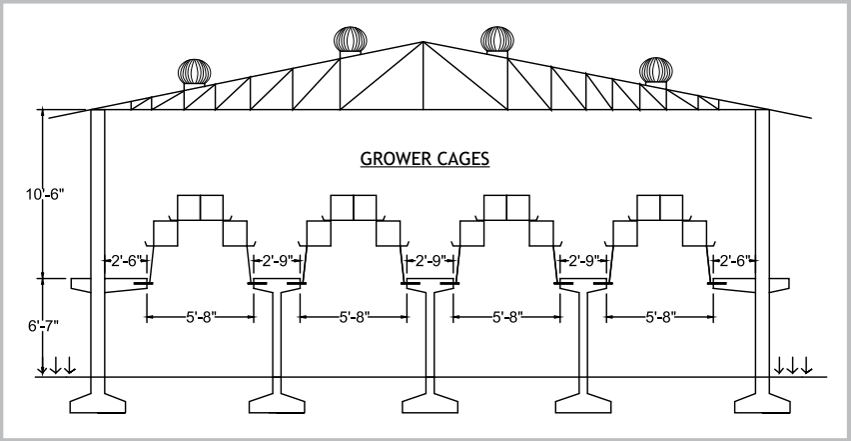 Housing Layers – cage system 
Cages are preferably 3 tier system
There may be 3 or 4 sets of cages depending on farm size and economics
In 10000 birds farm width of farm will be either 36.7ft
Farm erect on pillars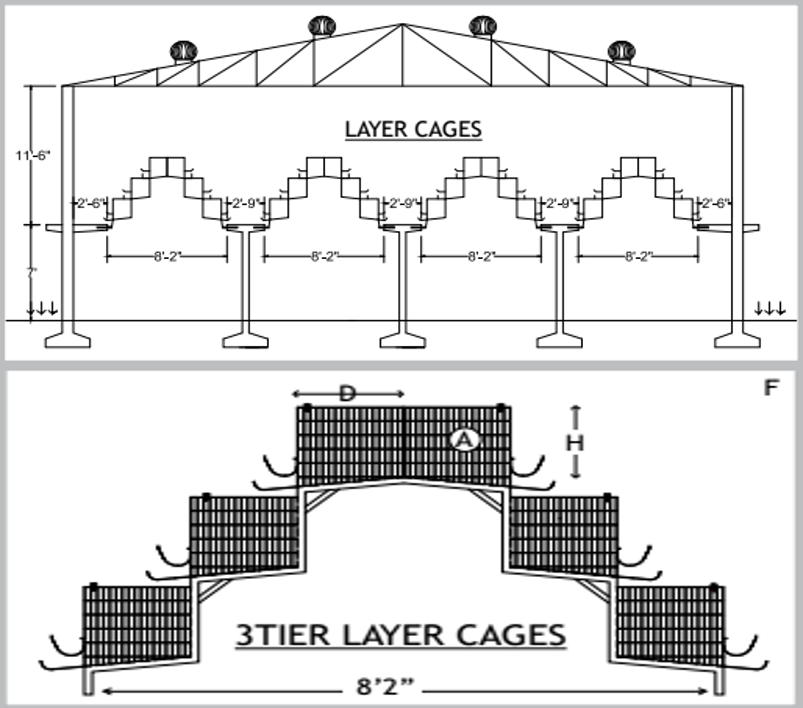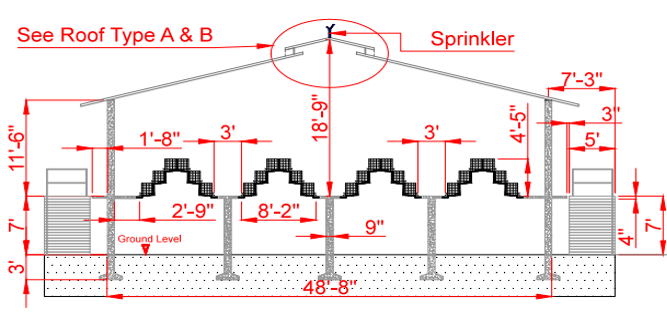 The bottoms of layer cages have slants to facilitate the easy rolling out of eggs once they are laid.
The size of the layer cage could be of 15″ width, 12″ depth and 15″ height at the back and 17.5″ height in front, accommodate 3 laying birds providing an area of 60 sq.inches per bird.


Housing modification – for small projects
Chicks and Growers can be rear in deep litter system
In this simple housing is required without cages
30ft width farm is sufficient
Chicks rear 5 to 8 weeks on deep litter and then directly transfer to layer cages
Chicks rear 15 weeks (105 days) on deep litter and then transfer to layer cages
Summary for 10000 birds
Land req. 1 acre; sheds facing east west; proper fencing
3 houses – 1 for each stage
Number of birds per cage depends on size of cage
For cage size 18x15x15 inch 9chciks: 5growers: 4layers could be accommodated
If cage size is 18x15x15 inch then layer farm size would be 220 X 38 ft; having 3 rows
Expanses tentative as of Feb 2019
Infrastructure cost – platform and other civil work @ INR 350/bird
Cages, nipple, feeder installation cost – @ INR 100/bird
Growing charges chicks (pullet cost) – @ INR 180/bird
Feed mill (mash plant) – @ INR 3lakh
Total cost comes around INR 66 Lakhs (It do not include labor room, offices, godown, fencing and other development)
Earnings
If all goes well and production sets within the norms; feed prices and mortality remain normal
Per hen per day average 70p could be generated as profit
Yearly earnings are around 19Lakhs (but now a days it is highly variable)
Thanks for reading – in next part we see how to rear chick up to egg laying stage (management of layer birds)